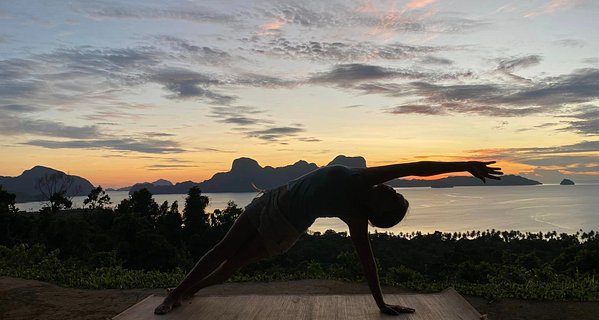 YOGA, MEDITATION & PRANAYAMA
Creates

New Beginnings, Happy People & Peace.
Yoga is a Journey - within, to understand and feel the Real you, we need to quiet down the thinking mind and allow the spirit & feeling to lead us toward our own truth, self realisation & unconditional love towards our selevs & people around us.
Yoga is uniting, yoga is healing, yoga is freeing, energizing and amazingly relazing practice what people haw been practising for hundrets of years yet still majority of people ignore it or just dont see them selves fitting into the Yoga - types.
yet there is no yoga types of people, all ages and body types can practise as yoga is very personal practise as well. There are many different styles to take on as well as all styles can be verified to your highest best. Take the step towards better feeling TODAY and get in tough!
I tailor make personal yoga programs, teach small groups and private lessons as well as hold trainings trough out the year.
Yoga training are your bets way to learn intensively with a daily practise combined to a healthy vegan diet.
For upcoming training/ workshops see my calendar
MY OFFERINGS IN 2023
- PRIVATE CLASS 90 min. 80$NZ
- 3x PRIVATE CLASS 225$NZ
- 5x PRIVATE CLASS 360$NZ
- SMALL GROUP CLASS FOR UP TO 6 PEOPLE 120$NZ
You can choose from hatha, hatha - vinyasa, restorative, power yoga, meditation or Pranayama breathing exercises. If you choose a class pass of 3 or 5 I encourage to try out few differerent styles of yoga!
-PERSONAL YOGA PROGRAM; 490$NZ
3 x90 min class,
Yoga basiscs e- book
Weekly what's app support call for 2 months
Recorded video made for you to follow
YOGA MASSAGE;
A GREAT WAY TO SOOTH OUT PAIN, TENSION & STRESS FROM THE BODY BY COMBINING EASY YOGA ASANAS TO MY HEALING HANDS ON YOUR BODY!
TRY IT OUT AND FIND A NEW WAY TO TREAT YOUR SELF!
- I had my first yoga massage from Maija 2021 & Loved it! Better than A traditional massage
- Andy 61 - Mexico
- I never thought that yoga poses combined to healing massage can feel so great! I will deffinetly get another one! - Minna 48 - Finland
I also offer gift vouchers if you would like to gift a friend, co- worker, family member or spouce this year!:)
Valentines Day specials:
75 min Private couples yoga class( up to 2 couples) ONLY 80$NZ!
90 min Small group yoga class - gift your friends!? only 100$